Welcome To Dreams By Annie
Artisian, Hand Crafted, OOAK - One Of A Kind, Hand Sculpted Dolls In Polymer Clay - 1:12 Dollhouse and Larger
Hi, my name is Annie Ross, better known as Dreams By Annie. It was sometime late 2003 when I got my start in sculpting. I started as a collector and turned sculptress. I worked with many different types of figures and in later 2006 I found some roots in miniatures. I still look to create something new and unsual and even larger scale faeries now and then just to break things up. I had also decided to play with making a couple of beds. My husband and I hope to jump back into dollhouses and room boxes so you will see some more of this as well soon.
Keep yours eye out for new things coming soon!
What You Need To Know!!!
Nearly all dolls that I sculpt have nude! Please do not page through my site if nudity offends you. I work with the human body, I am not a fashion designer. I was not gifted with both talents.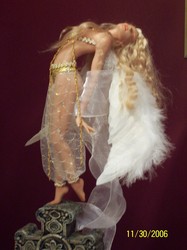 Look for new and upcoming dollhouses and room boxes by Eric Ross in the near future
Eric worked hard to make room boxes for me while I sculpted little people to put in them for a show we did. I hope it will not be long before he decides to sit down and whip up some more of his fabulous rooms he creates! Keep an eye out here! I will post as soon as they come about!
Customizing In Progress!
I was talked into doing a new and improved website so I'm giving it my best. This is also not one of my talented areas! LOL! But I do plan to add a few new things on the site.
What's Coming Up
I am more than happy to take orders from anyone that is interested in a particular piece.